FREQUENTLY ASKED QUESTIONS (FAQ)
How far in advance should I schedule a vehicle shipping?
We request that you schedule your vehicle move as far in advance as possible. The sooner your car or truck is booked for shipping the better we can adhere to a timeframe and cost structure that fits your needs. If emergency auto transport is needed, we can make arrangements to have your vehicle shipped within 48 hours.
Do I have to be present when the vehicle is picked up or delivered?
Yes, we request you, or a designated person, be present upon pick up of your vehicle. A post-transport vehicle inspection is performed and a contract bill of lading must be signed.
How do I prepare my vehicle?
The vehicle must have approx. 100 pounds of items. Remember we are not moving companies.  Additionally, no household items are insurable during a vehicle transportation. Only moving companies are licensed and insured to carry household items.
In addition to household items, absolutely no firearms, hazardous materials or illegal contraband are allowed to be stored in the vehicle at any time. Also, please ensure that there is no more than a 1/4 tank of gas in your vehicle.
Please also take precautions against any dramatic changes in weather that may affect your vehicle during the move.
Why should I use an auto transport broker versus any auto carrier?
Licensed auto transport brokers have a scheduling flexibility advantage over basic auto carriers. However, Auto Brokers can not move CARS they have no trucks and no control over anything except getting your order. Sometime they have no idea who the carriers is until they call if the unit is priced right. American Transport has trucks running during snowbird season every week.
Bonded and licensed auto transport brokers such as American Transport (M/C #652903) can refer your order to another licensed and insured carrier that is better suited to meet your requests, if needed. At American Transport, we take as much pride in our auto transport broker network as it affects our business and our image directly.
How do I know that a broker or carrier is licensed & insured?
To check whether a company is legitimate or currently licensed, click here to view the Federal Motor Carrier Saftey Administration Carrier Search.
In the empty box, type the MC # and click 'Search'
When the next window appears, click on 'HMTL'
Look for "ACTIVE" in the broker column for brokers.
Look for "ACTIVE" in the common or contract column for carriers
Is my vehicle insured during the auto transport process?
Each vehicle is insured up to $50,000 of damage due to an accident or driver neglect. Each carrier is required to carry a minimum of 750,000 -$1,000,000 liability insurance with a 250-2500 deductible In the event that a vehicle is damaged in transit, American Transport will forward the paperwork for the customer to file a claim the damage claim immediately upon receipt of all information and paperwork from the involved parties.
How and when do I pay?
American Transport accepts payment by all major credit cards. Initial deposit is by credit card. The balance may be paid by cash, cashier's check, or money order. Full amount by credit card there is a 3% charge
American Transport doesn't charge a broker fee or deposit until after your vehicle has been picked up by a carrier. Please note that carriers may charge you a cancellation fee if you cancel once they are en route to pick up your vehicle.
Why does a truck cost more than a regular car?
Vehicle shipments are based on the amount of weight a truck can legally carry. This is why there may be a small price difference.
What is door-to-door service?
Door-to-door service means the car transport driver will get as close to your door within limits of safety and legality. Many cities have restrictions on large trucks prohibiting them from going through residential areas. Most of our auto shipping trucks are very big and require a large area to turn around. If access to your home is restricted by narrow streets, low-hanging trees, electrical lines, and other dangerous obstructions the driver may ask to meet in a nearby parking lot where it is safe to load or unload.
Will this cost me a lot of money?
More and more people every month are deciding to ship autos with American Transport as opposed to driving themselves. The costs of gas, food, sleeping accommodations, and the time spent moving, you will see that transporting you car with American Transport is less costly, more efficient and far more enjoyable.
SHIPPING ACROSS THE U.S.
Weekly trips to and from New England to Florida.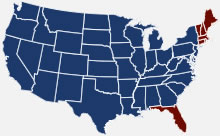 MISSION STATEMENT
American Transport is dedicated to successfully providing premier automotive logistics services.